Drop-In & Spray-On Bedliners
---
Casullo's carries and installs BOTH Drop-In AND Spray-On Bedliners!
Your truck is a big investment, make it last as long as possible, whether you use it for recreation or everyday work. Let Casullo's help you protect the part of your truck that takes the most abuse, the cargo bed. We can show you Under-Rail or Over-Rail Drop-In models or we can spray in the most durable bedlining system offered on the market today, right in our shop!

Check our "WHAT'S NEW" page for rebates and new products, don't miss a chance to Save Money on the Products You Want!
Call Us at 716-876-0916 Today!
---

Our Spray-On Bedliners are the highest quality that give your truck a factory finished look along with the best protection that can be obtained..installed right here!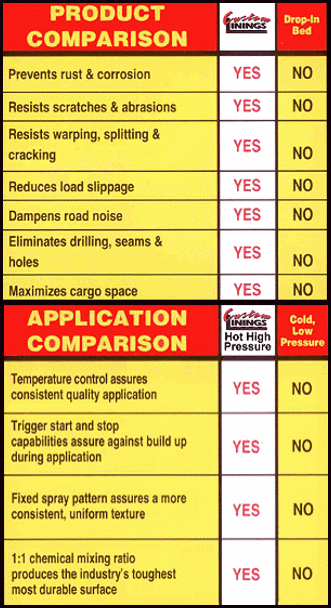 We also carry the best Drop-In Bedliner available in case you don't want a permanent truck bed solution. Casullo's has the right products for your situation!